We love promoting good food and wonderful recipes. This granola recipe comes from The Silver Palate Company.
Outrageous Granola Recipe
3 C. Silver Palate Oatmeal (uncooked)
1 C. chopped almonds
1 C. dried fruit of your choice
1 Tbs. vanilla
1 Tbs. cinnamon
½ Tsp. salt
1/3 C. brown sugar
1 C. pure maple syrup
Mix ingredients in large bowl. Transfer to baking sheet that has been sprayed with natural oil.
Bake at 325 for 35-45 minutes (stir halfway through).
Cool on tray. Cool in an airtight jar or container.
Makes over 8 cups of granola. Great source of protein, fiber, potassium
No chemicals or preservatives.
These are pure natural rolled oats. The maple syrup should be pure maple syrup and the sugar should be pure cane sugar. All of these will provide a natural, quality granola.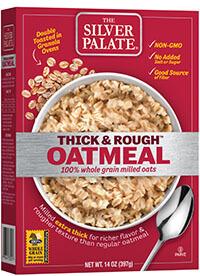 Other articles you may be interested in reading from TheseAreGreat.com:
How To Get Kids To Eat Healthy
What Do The Stickers On Our Produce Mean
health ,lifestyle,natural organic,,
organic food